12:11 am
[alaskan_blue]

Room Deposits
As many know VisionCon is at last back in the Clarion. Rooms are available for reservation at the old prices from the past however, I was informed tonight by a desk clerk at the con that there has been some changes to the room rental rooms. Due to the damages that have been caused by some con-goers there will now be a mandatory $250.00 deposit required of ALL rooms reserved by people attending the con. This does not just apply to room parties.
You must either provide $250.00 in cash upon check in or had a credit card with $250.00 available credit that they can place a hold on. I was informed that there will be no exceptions to this rule though I'm going to try calling the hotel manager tomorrow during business hours to see if there will be any for people who have a record of staying at the hotel in the past that there is a record of "incident free" rooms such as myself.
Current Mood:
pessimistic
12:50 pm
[thebruce]

It ain't a Con....
....but it's the next best thing.
For those of you that don't know, there's a Renaissance Faire just East of Marshfield, a mile South of 38 on route F called "White Hart Renaissance Faire". This weekend is the final weekend of the season.
One of your very favorite Sci-Fi con entertainers, Cedric the Fiddler of the Bedlam Bards is there performing. Firefly/Serenity Browncoats will recall that they put out an amazing Firefly tribute album "On the Drift", which has been featured in "Done the Impossible" and "Can't Stop The Signal". Come hear him sing "The Hero of Canton", and come hear Queen's Gambit performing with him "River's Dance", and hear Cedric sing several other wonderful Firefly tunes.
We'd love to see you all there. Garb up and come have fun!
Website for the faire is
http://www.historic-arts.com/white_hart_renaissance_faire/alt_index.htm
--theBruce
9:58 am
[alaskan_blue]

First Post: Just some Pics
No matter how dead a community might be there at least needs to be one post with a few pics in it, so I checked my photobucket and found a few gems from VisionCon's past :-D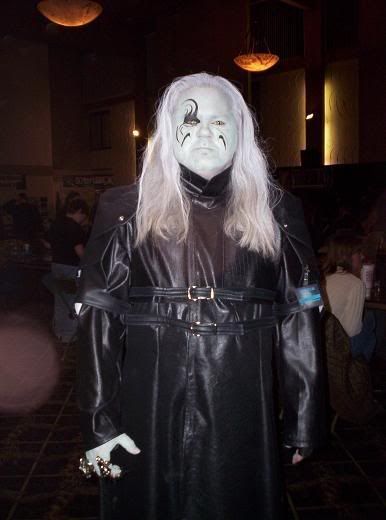 The only Wraith from SG-Atlantis I've seen at the con so far...
(
More behind cut!
Collapse
)
11:02 am
[zianuray]